The Different Breeds of Cats P.2
Hi ! . Thi's my second post about the differents breeds of cats. I hope that you like it
so Enjoy !
Its a lot of information so wait
Origins of the breed
Majority of the domestic breeds of cats, from which Maine coon, the Manx, Russian blue and the Siamese one, result from natural breeds of domestic cats originating in a specific geographical area.
Others, such as the Himalayan, are products of the Man, the result of crossings meticulous person until obtaining the desired breed.
Some relatively recent breeds, such as the Rex breeds, cats with undulated hair, Sphinx without hair, Scottish Fold with the folded ears or the American cats with curly hair, were obtained by genetic change and were developed by selection to become breeds with whole share.
ABYSSINIAN
ORIGIN
Although the Abyssinian is one of the oldest known breeds, there continues to be speculation and controversy concerning its history. In appearance, Abyssinians resemble the paintings and sculptures of ancient Egyptian cats which portray an elegant feline with a muscular body, beautiful arched neck, large ears and almond shaped eyes. Abyssinian today still retain the jungle look of felis lybica, the African wildcat ancestor of all domestic cats. The source of the name is not because Ethiopia, formerly Abyssinia, is thought to be the original home of these cats, but because the first "Abyssinians" exhibited in shows in England were reported to have been imported from that country: British troops left Abyssinia in May 1868, so that may have been the time when cats with ticked coats first entered England. Unfortunately, there are no written records tracing the early Abyssinians to those imported cats, and many British breeders are of the opinion that the breed was actually created through the crossing of the various existing silver and brown tabbies with native British "Bunny" ticked cats. The first Abyssinians to be imported to North America from England arrived in the early 1900s, but it was not until the late 1930s that several top quality Abyssinian were exported from Britain to form the foundation of today's American breeding programs.
ASPECT
Abyssin is an agile and graceful cat with a short fur. It can be several colours (ruddy, sorrel, blue, fawn, red torty, silver) the most common being the colour hare (a chestnut gilded with a womb and one under hair apricot). Abyssin can also have hairs at the middle lengths : this variety is called a Somali.
CHARACTER
As described in the Abyssinian Breeders International "Kitten Buyer's Guide" by Carolyn Osier, "Abyssinians must be one of the most intelligent animals ever created."

This handbook for the potential Abyssinian owner describes these cats as "...a very people oriented cat. Not a lap cat... but a cat that likes to be with people, a cat that wants to know what you are doing - that wants to help. There is probably no breed anywhere more loyal than the Abyssinian. Once you have acquired an Abyssinian as a companion, you will never be able to complain that no one understands you. Abyssinian are very good at training people to do just what they want them to do."
CARE
The maintenance is very easy and requires few efforts. Once a week, one has to cross on its hair a small rubber brush to remove some dead hairs and then, by means of a chamois, to smooth the fur to shine the hair.
ANATOLIAN or TURKISH SHORTHAIR
ORIGIN
The Anatolian cat (Turkish Shorthair) is a unique natural breed which finds her origin in the Anatolian region, but one can find this breed in many regions in Turkey. It is important to maintain this breed especially because of its own welfare. Many Anatolian cats have been exported and registered as Vans or Angoras. Dutch and German breeders are striving for purebred Anatolians.
ASPECT
It is a strong, muscular cat with back legs longer than the front.. The Anatolian is a shorthaired cat. The coat lies smoothly to the body and has no wooly undercoat. The eyes, green, bright yellow to dark amber in conformity with the coat color, are large and a bit almond shaped; like the Turkish Van and Turkish Angora, the Anatolian cat exists in all natural colours, with and without Van markings. White cats can have blue or odd eyes (yellow and blue or green and blue).
CHARACTER
They are affectionate and most loving cats if their human tolerates their character. The power of attraction of water to them is striking, yet more than we noticed at the Turkish Van cats. The kittens that grow up near to people are very affectionate and gentle.
CARE
One will give it a bath / month.
AMERICAN SHORTHAIR
ORIGIN
The American Shorthair is America's own breed, whose ancestors came to North America with early settlers from Europe. Records indicate that the "Mayflower" carried several cats to hunt ship's rats. For centuries, "working cats" flourished along with their pioneer owners and eventually established themselves as the native North American shorthaired cat. Their beauty and loving nature came to be valued as much as their rat-catching skills.. Early in the 20th century, foreign breeds imported to the United States (Longhairs and Siamese) interbred with native shorthaired cats, producing kittens with varied coat lengths, body styles, color and temperament. Those who wished to preserve the North American shorthaired cat acquired the finest examples of the breed and began mating them selectively to preserve the breed's conformation, beautiful face and sweet disposition, while perfecting the patterns and colors characteristic of the American Shorthair as we know it today. The CFA chose to officially recognize this lovely cat as one of its first five registered breeds in 1906. Originally known as the Domestic Shorthair, the breed was renamed "American Shorthair" in 1966 to better represent its "All American" character and to differentiate it from any other shorthaired breed.
ASPECT
Males are significantly larger than females, weighing eleven to fifteen pounds when fully grown. Mature females weigh eight to twelve pounds when they achieve full growth at three to four years of age. American Shorthairs can live fifteen to twenty years. The American Shorthair is recognized in more than eighty different colors and patterns ranging from the striking brown patched tabby to the glistening blue-eyed white, the beautiful shaded silvers, smokes and cameos to the flashy calico van, and many colors in between. The most well-known American Shorthair color today is the silver tabby, with dense black markings set on a sterling silver background.
CHARACTER
Looking for a cat that will be a gentle companion, a playmate for your children, and a full-fledged member of the family ? Look no further than the American Shorthair. This breed is known for its longevity, robust health, good looks, quiet disposition and amiability with children and dogs.
CARE
American Shorthairs are low-maintenance cats, requiring only annual vaccinations, veterinary checkups, a quality diet and plenty of tender loving care.
AMERICAN WIREHAIR
ORIGIN
The American Wirehair breed is uniquely American. It began as a spontaneous mutation in a litter of upstate New York farm cats in 1966. A spontaneous mutation is an uncommon, although not rare, happening. As it has occurred among cats in the past, two ordinary cats came together and as a result of their mating, a kitten unlike its parents or littermates was born. The progeny of the original mutation, Council Rock Farm Adams of Hi-Fi, are now in all areas of the United States. What is interesting and unusual about this particular mutation is that it has not been reported in any other country thus far. Wirehairs were first accepted for CFA registration in 1967 and for championship
ASPECT
The coat is the characteristic that separates the American Wirehair from all other breeds. Just as there is a wide variety of texture in Persians or Exotics, there is also considerable variation among the Wirehairs. As this is a dominant mutation, approximately half of the kittens will be wirehaired at birth. The most readily apparent wiring is that of the whiskers and ideally, the entire coat will be wired at birth. If the coat appears to be ringlets, it may be too long and may wave or straighten with maturity. Some of the lightly wired coats may continue to crimp during the early life of the Wirehair. The degree of coarseness depends upon the coat texture of the sire and dam. To produce the best wiring, both parents must have a hard coat.
CHARACTER
It is an intelligent and active, affectionate and sociable cat. He is independent but faithful to his boss.
CARE
One will give it a brushing / week to maintain the frizzy aspect of the hair.
AUSTRALIAN MIST or SPOTTED MIST
ORIGIN
The Australian Mist was developed in Australia starting in the 1980s.This breed wa "created by Dr. Truda Straede by combining Burmese (1/2), Abyssinian (1/4) and Australian Domestic Shorthair cats (1/4). Mixing the loving personality of the Burmese with the touch of lively intelligence of the Abyssinians and the vigour of the Domestic tabbies has given a cat which reflects the best of its mixed ancestry as well as its own unique charms. The original name for this breed, Spotted Mist, was changed to Australian Mist in 1998 when the marbled (classic tabby) pattern was added to the acceptable patterns for the breed. This Australian cat breed has been created under the very strict regulations of the NSW Cat Fanciers' Association Inc., and is now recognized by governing councils in Australia.The number of Australian Mist cats and Mist breeders continues to increase and soon the Australian Mist will most likely achieve official registration in other countries.
ASPECT
Australian Mists are shorthaired, medium-sized cats. Their round heads and large, beautiful green eyes give them their distinct expression. The legs and tail are ringed or barred, and the face and neck also have delicate lines of color. Australian Mist cats come in six colors : brown, blue, chocolate, lilac, gold and peach. They are both patterns (Spotted pattern and marbled) pattern).
CHARACTER
They are fun-loving, but very easygoing and relaxed. They make excellent pets for children of all ages, as they are tolerant of handling, and disinclined to scratch. Their propensity to crawl into the nearest lap with or without invitation, and to constantly hang around to see what people are up to makes them excellent companions for home workers and invalids.
CARE
The short coat is easy to care for.
BENGAL
ORIGIN
It's name comes from « Felis Bengalensis », the Asian leopard's scientific name. Bengals are originated from crossings of the Asian Leopard Cat to the domestic cat with the object of creating a cat with an wild look and a domestic temperament. After 4 to 5 generations, the breed was recognized by most cat associations (TICA, ACFA, GCCF,AACE).
ASPECT
The Bengals are medium to large cats ; they are about the size of American Shorthairs. Males are often very large and heavy (10 to 14 pounds), females are smaller and lighter (8 to 10 pounds). Bengals are usually short-haired, although there are long-haired Bengals. They have spotted or marbled coats with high contrast between the pattern and background colors. They are many variations of brown spotted tabby, including sorrel and tawny. The Snow Bengals or Snow Leopards, an ivory version of the Bengals, are sepia's or seal points, marbled or spotted. Black and blue are non accepted.
CHARACTER
Bengals are intelligent and affectionate cats. Their playful nature makes them excellent companions for children. They usually adapt to other family pets; curious and funny, they enjoy playing in water; very active cats, the Bengals demands a great deal of attention.
CARE
One will give it a bath / month.
BOMBAY
ORIGIN
"I'd love to own a panther." This oft heard comment piqued the imagination of a prominent cat breeder, the late Nikki Horner, from Louisville, Kentucky. Ms. Horner set her sights on producing a copper-eyed black shorthaired cat with the exotic appearance of a "mini", or "parlor-panther." The black leopard of India inspired her choice of the breed's name. Ms. Horner began her effort in 1953 with the selection of a black American Shorthair male with deep copper eye color and a Grand Champion sable Burmese female. Through a long process of inbreeding and outcrossing and careful selection, she was able to consistently produce a black cat unlike any other. The Bombay achieved CFA Championship status in 1976, eighteen years after it was created. Outcrossing to Black American Shorthairs and sable Burmese is still allowed.
ASPECT
With the exception of color, the Bombay and Burmese standards are very similar. Whereas the Burmese body presents a compact sturdy appearance, the Bombay body is of medium length, neither compact nor rangy, presenting a more lithesome appearance then its Burmese cousin. The Bombay's head is rounded with a short muzzle, but there should not be a "pugged" or "snubbed" look. The coat is the most defining characteristic of the Bombay. Its short, flat, gleaming, black-to-the-roots coat accentuates its rippling muscular form. And, along with its conspicuous gold to copper eye color, leads to the Bombay being described as the "Patent leather kid with the copper penny eyes."
CHARACTER
Bombays are congenial and outgoing, and make intelligent, affectionate companions. They do well with children and will often act as a "greeter" with visitors. They live compatibly with dogs and other pets as well. The Bombay generally combines the easy-going temperament and robust nature of the American Shorthair and the social, inquisitive, lap-loving character of the Burmese
CARE
One will give it a bath a month.
BRITISH SHORTHAIR
ORIGIN
The British cat, probably, derives from the domestic "Felis catus", originated from Egypt and brought by J. Caesar to Gaul. In the 19th century ,exotic cats, from the British Empire were brought to England (Queen Victoria owned two Persians!). Perhaps the arrival of these exotic breeds encouraged the development of a "British cat"; careful selections have resulted in a clearly identifiable breed; but during World War II, the population of British Shorthairs diminished significantly ; after the war, some breeders crossed Shorthairs with Persians in order to to peg the gene pool and restore the old type. In 1871, at the Crystal Palace Exhibition in London, the most beautiful British Shorthairs were showed; they held a place of prominence; unfortunately, by the end of the Century, interest in the Shorthairs decreased, until 1901,when the Shorthaired Cat Society came to their defence. American associations were reluctant to recognize the British Shorthair because it was genetically similar to the Exotic Shorthair (a cross Persian / American Shorthair.) It was accepted by ACA only in 1967 and by CFA in 1980. This breed is known as the "Shorthair" in Great Britain.
ASPECT
The British Shorthair is a compact, well-balanced medium to large cat; it has strong, muscular legs; head, cheeks, paws and eyes are round , nose is broad; Females are less massive than males; This breed is slow to mature; The coat is short and very dense. British Shorthairs are recognized in many different colors and patterns : blue, black, cream, red, …Mackerel, Tabby, Spotted Tabby, Bicolore, Smoke, Tortoiseshell…, but not more than 2/3 of the coat should be colored and not more than 1/2 white. Eyes color must be conform to coat color.
CHARACTER
The British Shorthairs are affectionate, reserved, independent ; they are quiet companions appreciating children and other cats ; they are also good hunters. Their voices are soft and sweet.
CARE
As with other dense-coated cats, twice or thrice weekly grooming, a monthly bath.
BURMESE
ORIGIN
In the early 1930's, Dr. Joseph Thompson of San Francisco acquired an attractive walnut-brown female from Burma which he named Wong Mau. Through selective breeding to Siamese, it was established that the Burmese is a distinct breed. Lighter colored kittens were occasionally produced and eventually the American breeders requested recognition from CFA for these "dilute" colours; first, as another breed named Malayan, then later as a dilute division of Burmese. The four colours recognized by CFA are: sable, champagne, blue and platinum.
ASPECT
Burmese carry surprising weight for their size and have often been described as "bricks wrapped in silk." Their coats are very short, satin-like in texture. There is a range in Burmese head and body type : the more compact cats with the rounder heads are seen in the show ring. Burmese have large, expressive eyes that are great pools of innocence and seductive appeal, irresistible in effect. These eyes are their most persuasive weapon in an arsenal of endearing traits that mask an awesome power to hypnotize their owners into life-time love affairs through which they effortlessly rule their families.
CHARACTER
As kittens, Burmese are quite lively. They often seem clumsy when they attempt feats beyond their capabilities and land on their rears with solid little thumps. They will be playful well into adulthood. As Burmese grow, their high intelligence emerges and their own individual personalities start to unfold.. If encouraged, many Burmese converse with their humans, using soft, sweet voices (they are neither loud nor raucous). They love warm laps and caressing hands and enjoy cuddling up in bed either under the covers or on top of their favourite persons. They delight in helping to manage the house. Some of their favourite chores are assisting with paper work or reading (by sitting on top of the material), or going into cupboards (to demonstrate where things ought to be). They are good with children, will tolerate the family dog, and if introduced to it at an early age as something pleasant, most will enjoy travelling in a car. Burmese should never be let outdoors as they are entirely too trusting and have little, if any, survival instinct.
CARE
Their coats generally require little grooming other than daily petting. Check for clear eyes and noses, clean ears and healthy-looking coats.
BURMILLA
ORIGIN
The Burmilla is an accidental breed from a cross of a male Silver Chinchilla and a lilac female Burmese belonging to a Baroness ; The kittens, 4 females, were so attractive that she decided to develop a new breed that had the structure of a Burmese with the pretty silver tipped coat of the Chinchilla: the same Chinchilla mated with a Blue female Burmese which produced a single male kitten; one of these females mated with this male : they booth are the founders of the Burmilla breed. The Breeding Programme and the Breed Standard were accepted by the CA, end 1983. In 1984, the Burmilla Cat Club was developed.
ASPECT
The Burmilla is a medium builded cat ; hind legs are longer than forelegs; females are much smaller and than males; the top of the head is rounded. The eyes, from gold through to green, are very expressive. The paws are oval and the tail is medium to long. There are delicate traces of tabby markings on the head, legs and tail. The coat is short and dense; the coloured tipping at the end of the hair can be lightly tipped or shaded. Some of colors allowed are: black, blue, red, chocolate, lilac, apricot, cream, tortie, chocolate tortie, lilac tortie
CHARACTER
The Burmilla is a playful, sociable, and intelligent cat. It is generally good with children and even dogs. This cat loves attention and needs to be part of the family.
CARE
One will give it a bath a month.
CALIFORNIA SPANGLED
ORIGIN
This breed is born in California, thanks to Paul Casey, a Californian scriptwriter, in 1971: when he came back from South Africa, he intended to create a cat similar, in appearance, to african's leopards, but sociable, a "house-cat". It took many years to reach this object; he crossed several domestic breeds (Siamese, Abyssinians, Manx...) and wild cats. The breed was recognized in 1986; in Europe, this breed is rare .
ASPECT
The California Spangled Cat is a medium shorthaired cat with a well-developed musculature ; the hind legs give the appearance that the cat is sitting back on its legs; the head has a rounded skull; the tail, moderatly long, has dark rings and a dark tip on the ground color; the eyes, gold to brown, almond-shaped, are in accordance with the coat color. The accepted colors are black, brown, blue, bronze, gold, silver, charcoal and red. The Snow Leopard (white coat) has blue eyes.
CHARACTER
California Spangled are active cats; they are affectionate and sociable and get along well with other cats in a household.
CARE
Weekly brushing is sufficient.
CEYLON
ORIGIN
The Ceylon Cat is a domestic breed, originating in Sri Lanka (formely Ceylan). In 1984, Dr. Paolo Pellegatta brought the first "Gatto di Ceylon" specimens into Italy. They grew rapidly in popularity and, in 1988, the Ceylon Cat was registered as a new form of pedigree cat.
ASPECT
The Ceylon is a cat of medium size, compact, muscular, and well-rounded; the hind legs are longer than the front legs; the head has round cheeks; the eyes, yellow-green, are almond shaped; its ticked coat is short, fine, but dense and silky. The Ceylon Cat has tabby markings on head, legs, neck and tail. Ticking and markings can be blue, red, cream or tortoiseshell. The ground colors of the Ceylon are similar to the Abyssinian.
CHARACTER
Ceylon cats are sociable and friendly.
CARE
They need only a minimal amount of grooming : brush and comb once a week.
CHARTREUX
ORIGIN
The Chartreux may be one of The Cat Fanciers' Association's oldest new breeds. Chartreux history is steeped in legend, even though the breed was only advanced to championship status in 1987. There exists a lovely old legend that the Chartreux lived with, and were named for, the Carthusian monks of France, and perhaps even shared a tipple or two of their famous Chartreuse liqueur ! Recent research, however, indicates that because of the woolly character of their fur, they were given the same name as a well known Spanish wool of the early 18th century. Since this method of naming is common in animal husbandry, it is very likely the truth. Nevertheless, the presence of this natural breed of cat was noted in documents as early as the 16th century, and was acknowledged for its unique coat texture and color. Whatever the reason, the Chartreux adopted France with all their native vitality and intelligence, and the country adopted the breed. During World War II, some French breeders tried to save the breed from extinction by outcrossing to Persians and British Shorthairs. However, the original Chartreux cats that were imported to the United States came from the French countryside, and only those cats were used in breeding programs to produce and preserve the natural status of the present pedigreed Chartreux.
ASPECT
The Chartreux has a robust body, broad shoulders and a deep chest, all complemented by medium short, finely boned legs. The Chartreux is well muscled. Unlike any other cat, the Chartreux's blue fur is medium in length and woolly, with the proper coat breaking at the neck, chest, and flanks. A dense undercoat gives it resistance and a feeling of sheep's wool. The rounded head with its softly contoured forehead tapers to a narrowed muzzle gives the Chartreux an image of smiling. The nose is straight. The Chartreux's eyes are one of its most endearing features:they are rounded, but not as round as the Persian's. The outer corners curve slightly upward. Color ranges from gold to copper, the latter being most preferred by breeders. The ears should be medium in height and width, set high and erect on the head. Most importantly, the Chartreux should enjoy or at least tolerate being handled for exhibition. Chartreux kittens are precocious. Physical maturity can be three years in coming.
CHARACTER
Chartreux quickly become attached to one family and frequently follow their masters from room to room. Known for their dog-like behavior, these cats can be taught to fetch a ball, and most will respond to their names. The Chartreux is a quiet breed, chirping rather than meowing at things it finds interesting. This intelligent cat is fascinated by television and likes to participate in telephone conversations by chewing on the cord.
CARE
Brushing the double coat is a no-no. Instead, running your fingers through the fur on a daily basis will suffice and will also contribute to your cat's social demeanor at the same time.
CHAUSIE
ORIGIN
The Chausie is a new breed - a hybrid of domestic cats and the wild jungle cat of Asia. This breed is still developing and is not widely recognized.
ASPECT
The Chausie is a large (generally twice as tall as a domestic cat and 2-3 times as heavy), muscular, graceful cat with a three-quarters-length tail; Ear tufts are highly desirable;. the breeders are striving to maintain the look and coloration of the jungle cat: the Chausie is currently accepted in black, brown ticked tabby, and silver tipped colors.
CHARACTER
The Chausie is a sweet-natured cat, though extremely active, intelligent, and curious. They need plenty of playtime and toys to keep their active minds and paws busy.
CARE
One will give it a bath / month.
COLORPOINT SHORTHAIR
ORIGIN
Colorpoint Shorthairs are the first cousins of the Siamese. This breed is distinguished by its elegance in sixteen different "point" colors beyond the four Siamese colors. Half-siblings to the Siamese by virtue of their foundation and continuing breeding with the Siamese, the Colorpoint Shorthair is a hybrid breed of the Siamese. Colorpoints, circa 1947-48, are a far cry from their angular, leggy descendants of today. Today's Colorpoints are the same structural standard of the Siamese, with the only difference being their unique point colors.
ASPECT
In the early breedings, breeders concentrated on cats with red or cream restricted to the points (face, legs, ears, tails and genitals). Early hybridizations with domestic shorthairs, and refinement by concentrating the Siamese gene with the red gene, produced the first of the colors to eventually be called Colorpoint Shorthairs. To distinguish the new breed from the Siamese, CFA breeders adopted the name Colorpoint Shorthair for registration purposes, and through a painstaking process won recognition as a breed in 1964. The early cats who helped become the new breed were given the first color class of the Colorpoints, called the solid points, which are the red and cream points. As time progressed and the early hybrids gained popularity, the tabby versions of the Siamese were introduced into the Colorpoint Shorthair programs in the four Siamese colors. In CFA, these tabby pointed cats are called lynx points and are exhibited in their own "lynx point class" as seal-lynx points, chocolate lynx points, blue-lynx points, lilac-lynx points, red-lynx points and cream-lynx points. The tortie, or parti-colors, are an interesting phenomenon of the hybridization process of the red gene. Shortened to "tortie or cream points," this color class of the Colorpoint Shorthairs are exhibited as the parti-colors. The parti-colors are a "by product" of the red gene and come in the four Siamese colors with random mottling or "blotching" of red and /or cream with the basic Siamese color. They often also have a symmetrical split of the red and/or cream on one side of the face mask and the Siamese color, such as seal, on the other half. Because the red color gene is sex linked, tortie or cream parti-color points only come in females. Color descriptions start with the primary Siamese color and add the mottling of red or cream. Thus we have the seal-tortie points, chocolate-tortie points, blue-cream points and lilac-cream points. When bred to a lynx parent, the last four of the sixteen colors are the tabby, or lynx, versions of the parti-color points, i.e. the seal-tortie lynx point, chocolate-tortie lynx point, blue-cream lynx point and lilac-cream lynx point.
CARE
Like their Siamese cousins, Colorpoint Shorthairs require little grooming An occasional bath is recommended, but allow the freshly bathed coat to air dry in a warm spot. Do not blow dry, but do brush the coat with the concave or short side of a small rubber brush to remove loose hair and make the coat lie smooth. The coat can be "finished" by smoothing the coat with a chamois cloth.
CORNISH REX
ORIGIN
In spite of their resemblance to ancient Egyptian statues, they are not from Egypt. As their name implies, these cats originated in Cornwall, England, where they first appeared in a litter of barn cats born about 1950.
ASPECT
In appearance, Cornish Rex cats are a study in curves starting most noticeably with their coat which ideally falls in washboard waves. The coat is very short, lies close to the body and is incredibly soft to the touch, prompting comparisons to cut velvet, karakul lamb, rabbit fur or silk. In fact, it feels like a Cornish Rex coat and nothing else is the same. There is even variation among individuals within the breed. In addition to the coat, this breed has a distinct head and body type. Large ears are set high on a comparatively small, egg-shaped head with high cheekbones, hollow cheeks, and a high-bridged Roman nose and strong chin.. These small to medium sized cats are extremely hard-bodied and muscular, using their well developed hips and long legs for fast starts and stops, quick turns and high jumps.
CHARACTER
In personality, the Cornish Rex is extremely affectionate and people-oriented. They are also active cats whose kitten-like antics last for their lifetime and who can be very inventive in their play. Favourite Cornish Rex games are fetch, catch and even "discus," in which the cat uses its hand-like paw to pick up and toss a small object. In spite of their sophisticated, elegant appearance, Cornish Rex cats are anything but cool, aloof or dignified. They are perfect pets for the owner who wants active cats to participate in family life.
CARE
It is good to wash it frequently with a shampoo for baby.
DEVON REX
ORIGIN
In 1959, a Miss Cox of Devonshire England found that a stray cat in her care had given birth to a rather odd looking curly-haired kitten, the sire thought to be a curly-haired tomcat seen in the area. Delighted with the kitten's elfin features and wavy curls, she named him Kirlee, the founding father of the unique and wonderful breed of cats known today as the Devon Rex.
ASPECT
Today's Devon Rex maintain a look true to their founder : huge ears, set low on the sides of the head frame, a pixie-like face with large, inquisitive eyes and a short slightly upturned nose. A coat of loose waves and curls covers a strong and supple body in a compact, refined form. The Devon coat varies greatly between individuals, ranging from an almost shaggy mop of loose curls in some to a thin suede-like coat in others that may leave some areas nearly bare. The coat may vary over the life of the cat, with some kittens dropping much of their coat ("molting&quot
during their development, and some adult coats changing seasonally .Nicely "mid-sized" cats, adult Devons average six to nine pounds, with males heavier than females..
CHARACTER
Devons are highly active, playful and involved with everything. Powerful jumpers, very few spots large enough to hold them will not be explored and occupied. Devons have been found climbing brick fireplaces and perching on top of doors. Although little escapes a Devon's interest, Devons are very people-oriented. Most Devons invite themselves along for every activity , preferably perched on a shoulder, lap, or wherever they can be closest to their people.
CARE
Devons are low maintenance, wash-and-wear companions. Their large ears occasionally require cleaning, but otherwise a quick shampoo and towel dry and a nail-trim is all the grooming most Devons require. Devons have also gained a dubious reputation as being "hypo-allergenic," but this varies according to an individual's personal allergies. While some people with animal allergies tolerate Devons very well, anyone with allergy issues should arrange to handle a Devon before considering acquiring one.
DON SPHYNX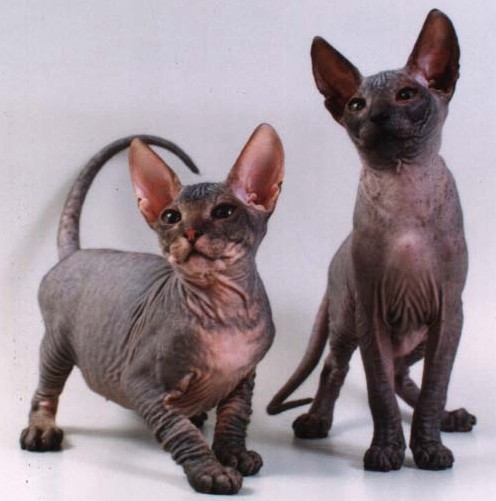 ORIGIN
The Canadian-bred Sphynx was the sole hairless cat breed until.1981, when haireless cats were reported in England. In 1987, Mrs Kovaljova, discovered a hairless female cat in Rostov-on-Don ; mated with an European shorthaired male, this cat became the founder of a new breed : the Donskoy Sphynx. The Don Sphynx cats are bred to European Shorthairs, Domestic Shorthairs and Russian Blues, to produce more Don Sphynx. The Don Sphynx is, physically, different from the Canadian Sphynx. The breed was registered in the WCF in 1996 and has a provisional status in TICA.
ASPECT
The body of the Don Sphynx is of medium lengh, strong and muscular with curly whiskers and tail tip; the eyes, almond shaped, are of a medium size ; ears are large ; the face is short, the paws have long toes; the curly coat is dense and soft. Young cats have the muzzle covered with short and thin fur ; the residual fur disappeared by adult cats by 2 years. All colors are acceptable
CHARACTER
The Don Sphynx are very active, very kindly and sociable. Their behaviour is originally due to high stability to stress-factors: they don't afraid of new territories, unknown people or animals.
CARE
Because of the lack of hair that would normally absorb body oils, the Don Sphynx needs to be bathed periodically. This is not a difficult task with a cat that has been accustomed to a bath from kitten hood and it takes no time at all to dry a Don Sphynx.
EGYPTIAN MAU
ORIGIN
The Mau (Mau is the Egyptian word for cat) has been clearly identified in the artwork of the ancient Egyptians, leaving no question in the minds of many experts that the Egyptian Mau is indeed the cat domesticated from a spotted subspecies of the African Wild Cat by this unique culture. To gaze upon this beautiful and engaging creature is an opportunity to view a living relic. Their history in North America began with their importation in 1956 by the exiled Russian princess, Nathalie Troubetskoy. Recognition by The Cat Fanciers' Association (CFA) for championship competition came in 1977.
ASPECT
With an elegant body that is randomly spotted, banded legs and tail, expressive gooseberry green eyes, distinctive mascara lines, a worried expression on the face, and a graceful cheetah-like stride, it is no wonder that the Mau attracts such a tremendous amount of attention at cat shows. Maus come in five colors: silver, bronze, smoke, black and blue. The black and the blue Mau are not eligible for the show ring.
CHARACTER
The Egyptian Mau has the distinction of being the only natural spotted breed of domestic cat. An extremely intelligent animal, the Mau places a great importance on family, both human and their own, and is fiercely loyal in his devotion to them. They are moderately active and often express their happiness by chortling in a soft melodious voice and wiggling their tails at great speed while treading with their forepaws.
CARE
One will give it a bath / month.
Well this is all . Exist a lot of differents breeds if you want to see more go to the
part 1
.
Bye !
Sources of Information
The post is made up of the author's original content, or is a compliation of material from various places.
Welcome to Catou Web
---
Followers
Visits
Favorites