Deforestation, a modern day plague
.

Deforestation is clearing Earth's forests on a massive scale, often resulting in damage to the quality of the land. Forests still cover about 30 percent of the world's land area, but swaths the size of Panama are lost each and every year.
The world's rain forests could completely vanish in a hundred years at the current rate of deforestation.

Forests are cut down for many reasons, but most of them are related to money or to people's need to provide for their families. The biggest driver of deforestation is agriculture. Farmers cut forests to provide more room for planting crops or grazing livestock. Often many small farmers will each clear a few acres to feed their families by cutting down trees and burning them in a process known as "slash and burn" agriculture.

Logging operations, which provide the world's wood and paper products, also cut countless trees each year. Loggers, some of them acting illegally, also build roads to access more and more remote forests—which leads to further deforestation. Forests are also cut as a result of growing urban sprawl.
Not all deforestation is intentional. Some is caused by a combination of human and natural factors like wildfires and subsequent overgrazing, which may prevent the growth of young trees.
Deforestation has many negative effects on the environment. The most dramatic impact is a loss of habitat for millions of species. Seventy percent of Earth's land animals and plants live in forests, and many cannot survive the deforestation that destroys their homes.
Deforestation also drives climate change. Forest soils are moist, but without protection from sun-blocking tree cover they quickly dry out. Trees also help perpetuate the water cycle by returning water vapor back into the atmosphere. Without trees to fill these roles, many former forest lands can quickly become barren deserts.
Removing trees deprives the forest of portions of its canopy, which blocks the sun's rays during the day and holds in heat at night. This disruption leads to more extreme temperatures swings that can be harmful to plants and animals.
Trees also play a critical role in absorbing the greenhouse gases that fuel global warming. Fewer forests means larger amounts of greenhouse gases entering the atmosphere—and increased speed and severity of global warming.

The quickest solution to deforestation would be to simply stop cutting down trees. Though deforestation rates have slowed a bit in recent years, financial realities make this unlikely to occur.
A more workable solution is to carefully manage forest resources by eliminating clear-cutting to make sure that forest environments remain intact. The cutting that does occur should be balanced by the planting of enough young trees to replace the older ones felled in any given forest. The number of new tree plantations is growing each year, but their total still equals a tiny fraction of the Earth's forested land.




Deforestation and forest degradation are both a cause and a result of climate change. Plants absorb carbon dioxide and use it to grow, but when they decay or burn, carbon dioxide is released again. Decaying plants also produce methane, a greenhouse gas more potent than carbon dioxide.
So deforestation and forest degradation are doubly damaging, because greenhouse gases are released (e.g. through forest fires, or using the cut trees as firewood), while at the same time the number of carbon dioxide absorbing trees are reduced. Thirty percent of the carbon dioxide added to the atmosphere over the past 150 years is thought to come from deforestation, but this is a small amount compared to what is still stored in forests. The Canadian and Russian boreal forests alone hold 40 percent of the world's carbon stocks.

How climate change is hurting forests
Changes in temperature ranges and precipitation can harm forests. Droughts and forest fires are expected to increase due to climate change. Forest fires can be a normal part of forests - they clear dense brush and are part of some species' lifecycle. However, forests over stressed by human activity and drought can also be devastated by them. There are already indications that the Amazon is drying out, which could lead to a dangerous feedback of fires and desertification.
Invasive insect species may also damage forest health. Insects play a role in boreal ecology - they decompose litter, supply food for birds and small animals, and eliminate diseased trees. But insect attacks are likely to increase in frequency and intensity as established forests succumb to the physiological stress associated with warmer, drier conditions. As the Arctic warms, some invasive insect species, which the colder climate normally helps hold in check, are already increasing in population.

Replanting and sustainable forestry
It's worth noting that proper sustainable forestry practices do not cause a net increase of carbon dioxide in the atmosphere because a new tree is grown for every one cut down. By contrast, clear cutting and converting forestland into to urban areas has a very high negative impact - because the forest is destroyed and replaced with heat absorbing pavement and buildings.
Obviously, re-forestation, sustainable logging and protecting ancient forests are essential if we do not want the pace of climate change to increase further - so long as these forests are not destroyed later (by future logging, forest fires, etc.).
However, to actually prevent dangerous, human-induced climate change, we need to address the main cause: the burning of fossil fuels and the release of industrial greenhouse gases into the atmosphere.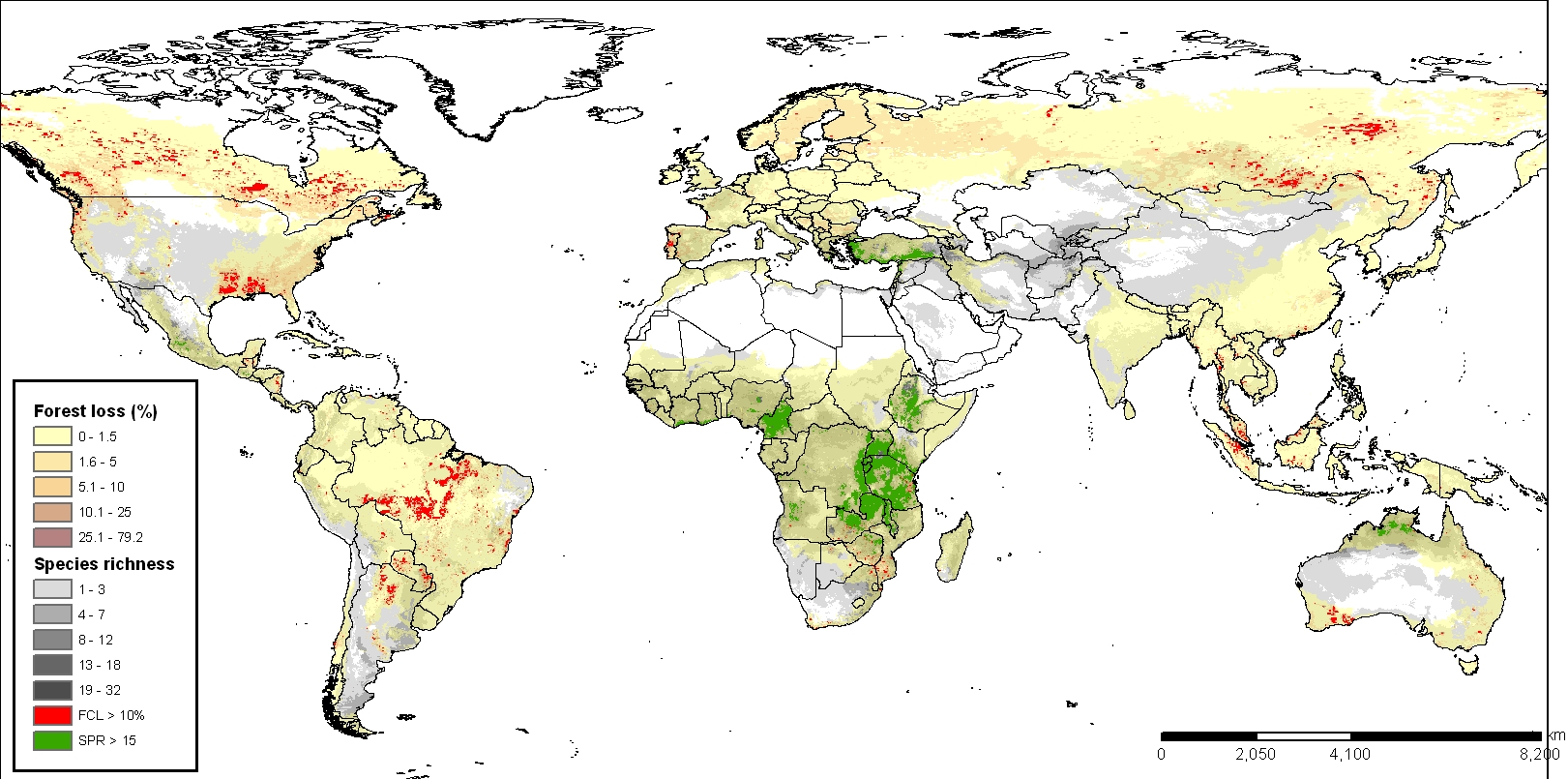 Solutions to Deforestation
Around the world, forests are being logged for timber and paper pulp and cleared to grow mono-crops like soy and palm oil while they are deteriorating from the impacts of global warming. Deforestation is a major driver of global warming, responsible for up to 20 per cent of global greenhouse gas emissions–more than all the cars, trucks, planes, boats and trains in the world combined.
Deforestation doesn't just threaten our climate, it threatens the livelihoods of 1.6 Billion people that rely on forests for food and economic activity. Forests also serve as habitats to rare and undiscovered animal and plant species and play a key role in providing water and preventing flooding and erosion.
Ending deforestation and protecting forests will not only preserve biodiversity and defend the rights of forest communities, it is also one of the quickest and cost effective ways of curbing global warming. Greenpeace is campaigning for zero deforestation, globally, by 2020.




Drivers of deforestation vary from region to region-below are examples of human activity driving the destruction of the world's natural forests.
* Agri-business- the largest driver of deforestation, in which vast areas of natural forest are burned or cleared in order to raise cattle or grow cash mono crops like palm oil and soy. Palm oil and soy are used in a wide array of products ranging from toothpaste, chocolate, animal feed and cosmetics.
* Industrial logging for timber, pulp and wood fiber to create building materials and consumer products like office paper, tissue, books, magazines and packaging.
* Mining for metals such as gold, copper, or aluminum clears large tracts of natural forests and contaminate forest eco-systems with their runoff.
* Road Building through forests fragments the landscape, endangers wildlife habitat and provides access points for illegal loggers and other business operations that encroach into the forest.
* Hydroelectric dams flood upstream forests, leading to widespread forest loss, habitat degradation and displacement of forest communities and wildlife.

The Solutions
Combating deforestation is a complex issue that requires a variety of approaches.
Here are a few key solutions that Greenpeace supports:

Corporations/Markets
If corporations have the ability to destroy the world's intact forests, they also have the power to help save them.
Companies can make an impact by introducing zero-deforestation policies that require suppliers to produce commodities such as timber, beef, soy, palm oil and paper fiber in a way that has a minimal impact on natural forests and the climate. Companies can also introduce paper procurement policies that set ambitious targets to maximize use of post consumer recycled wood, pulp, paper and fiber in their products and ensure that any virgin fiber used is certified by a rigorous third party certification system such as the Forest Stewardship Council (FSC).
Read more about the Forest Stewardship Council.
Greenpeace investigates, exposes and confronts environmental abuse by corporations around the world, and takes action with its supporters. Our campaigns have shifted the buying behavior of major companies, creating immediate impacts in the market and on the ground.
Read More about what corporations like Kimberley-Clark, Kraft and Burger King have done in their effort to minimize their contribution to deforestation

Consumer Power is a crucial part of the solution to ending worldwide deforestation. As a consumer, you have the power to put pressure on companies that have bad environmental practices. By buying recycled or certified wood products, only supporting brands with zero deforestation policies, and getting others to do the same you send a message to companies to embrace zero deforestation policies.

Politics
In order to achieve zero deforestation by 2020 we need ambitious and science-based domestic and international forest policies from our government.
We use U.S. laws like the Wilderness Act, Lacey Act
and the Roadless Rule to protect U.S. forests and stop illegal wood products from entering the U.S. marketplace.
We also support and use treaties like the Convention on International Trade in Endangered Species (CITES) to help protect forests and the endangered plant and animal species that rely on forests for habitats.
The international community must also urgently commit to mechanisms that reduce greenhouse gas emissions from deforestation in tropical forest developing nations. Forests for Climate is a landmark proposal for an international funding mechanism to protect tropical forests. Developing countries with tropical forests that choose to participate in Forests for Climate would make commitments to protecting their forests and in exchange would have the opportunity to receive funding for capacity-building efforts and for national-level reductions in deforestation emissions. This would provide a strong incentive for developing countries to continually improve their forest protection programs.

What you can do
Wield your consumer power!
* Make sure that the forest derived products you buy are made from 100% post-consumer content materials
* Buy only from companies that have a commitment to reducing deforestation through an environmentally friendly purchasing policy
* If you are buying products made from virgin forest fiber, make sure that it bears a seal from a credible forestry certification system, like the Forest Stewardship Council (FSC) Read more about the FSC and false forms of forest certification
* As a consumer ask questions about how the products you buy impact the forests.
* Educate your friends, family, and community about how our actions here can impact forests thousands of miles away.

Greenpeace will continue to pressure corporations that make products from ancient and endangered forests. Right now Greenpeace is pressuring Yum! Brands Inc., parent company to Pizza Hut, KFC, Taco Bell to stop using Indonesian forest fiber in their packaging and to adopt forest procurement policies and help protect the Endangered Paradise Forest. You can help by telling fast-food giant YUM! Brands (and their subsidiaries Pizza Hut, KFC and Taco Bell) that it is time for them to take a stand for tropical forest protection. Without a forest protection policy, they are not only getting increasingly out of date, they are becoming more and more a part of the problem!



Take Action against corporations that source material from endangered forests !








link: http://www.youtube.com/watch?v=qzK2XITThZM




link: http://www.youtube.com/watch?v=aQpjPgJquDY&feature=player_embedded




link: http://www.youtube.com/watch?v=Fo4WXly4QYk




link: http://www.youtube.com/watch?v=QFxW7juOE-o&feature=related




link: http://www.youtube.com/watch?v=m8nXltMZYtM&feature=related




link: http://www.youtube.com/watch?feature=endscreen&v=Rxi4wvN4yzU&NR=1
Sources of Information
The post is made up of the author's original content, or is a compliation of material from various places.
---
Followers
Visits
Favorites