Amy Winehouse bio, pics and more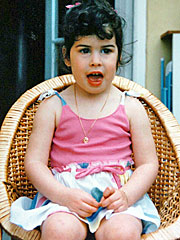 Amy Winehouse has Arrived

September 14, 1983. Cab driver Mitch Winehouse and his pharmacist wife Janis welcome their second child Amy into their North London home. When the Winehouses split, a nine-year-old Amy and her older brother Alex live mostly with their mother in Southgate – a London suburb best known for housing the Priory, a celebrity-friendly rehab hospital. "She was always very self-willed," her father Mitch tells Rolling Stone in 2007. "Not badly behaved but...different."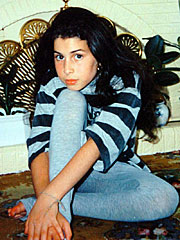 Too Cool for School

1996. At 12, Winehouse wins a space in the prestigious Sylvia Young Theatre School, but is expelled long before graduation. (The final straw? Getting her nose pierced). "She was very bright but she was always messing around," mom Janis tells London's Daily Mail in 2007. By 16, Winehouse – who later tells Interview, "I'm not very ambitious at all" – lands a deal with Simon Fuller's (the man behind American Idol) management company. She eventually signs with Island Records.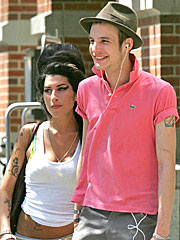 The Amy-Blake Rollercoaster

2003. Winehouse meets Blake Fielder-Civil, a part-time gofer on music video sets, at a local bar. She promptly has his name tattooed above her heart, and the two begin a tempestuous, on-and-off romance. During one particularly prolonged hiatus, he reconciles with an old flame and a heart-broken Winehouse writes the bulk of her 2007 breakthrough album, Back to Black. It was a time of extreme creativity, but Winehouse admits she was also attempting to drown her sorrows in booze.

Amy Releases Frank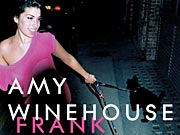 A few months after that, she released Frank, a jazz-inflected album that explores the pain of a previous breakup, goes platinum in the U.K. While the single, "Stronger Than Me," wins Winehouse the Ivor Novello songwriting award for Best Contemporary Song, she seems dissatisfied with the album's slick packaging and arrangements. "I can't even listen to Frank any more," she tells The Sun in 2006. "In fact, I've never been able to."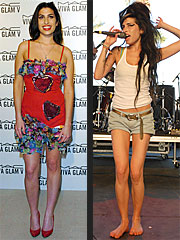 Smaller Amy, Bigger Beehive

2006. The British press buzzes about Winehouse's rapid weight loss – The Times, for example, claims the once-curvy chanteuse dropped three dress sizes. Winehouse attributes her shockingly slim new look to cutting back on her marijuana use. "I'm a musician; I'm not a model," she says on her 2007 concert DVD, I Told You I Was Trouble. "The more insecure I felt, the more I'd drink." And the more she'd tease that trademark beehive: "The more insecure I feel, the bigger my hair has to be."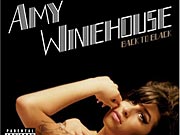 Winehouse is Ba-ack

Back to Black is released in the U.K. and is propelled by the catchy "Rehab." The song recounts the time Fuller's company tried to force her into a treatment facility. "I did [go to rehab], for just 15 minutes," she tells The Sun. "I went in and said, 'Hello' and explained that I drink because I'm in love and have f---ed up the relationship. Then I walked out."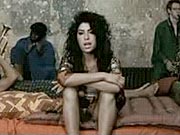 Taking the States by Storm

2007. Back to Black enters the Billboard charts at No. 7, the highest debut for a U.K. female at the time, and "Rehab" (Winehouse pictured in music video) peaks at No. 9 on the Hot 100. Entertainment Weekly declares: "It's a near-perfect [album] that declares not just the arrival of a fully formed talent, but possibly the first major salvo of a new British Invasion."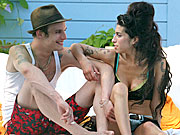 Winehouse breaks up with chef Alex Claire and reconciles with Fielder-Civil. "Blake and I are best friends," she tells EW. "It was a strain not to be able to see each other because we were both in other relationships." In May, they get hitched in Miami (left). "I know I'm talented, but I wasn't put here to sing," she tells Rolling Stone. "I was put here to be a wife and a mom and look after my family."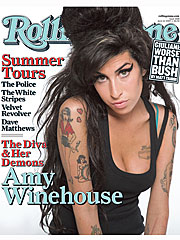 'Just Chicken Scratch'

In a video on Spin.com, Winehouse is seen posing for photographer Terry Richardson while scratching on her exposed midriff with a shard of broken glass. "I wrote 'I love Blake' on my tummy," she says, "It's just chicken scratch." She also tells the German magazine Stern. "I believe that I live through pain. If you suffer for something it means to me that it is not unimportant." Another milestone that month: Winehouse lands on the cover of Rolling Stone.

Rushed to the Hospital

A day after scoring three MTV Video Music Award nods, the singer is rushed to the University College London Hospital. Her rep says "exhaustion" is the cause, but Winehouse later admits it was a drug overdose. "I really thought I was on the way out," she tells Stern. "My husband Blake saved me." On Aug. 13, the newlyweds check into a "retreat" in Essex, England. However, they check out in a matter of days and go on a prolonged vacation in St. Lucia. Winehouse cancels the rest of her U.S. tour.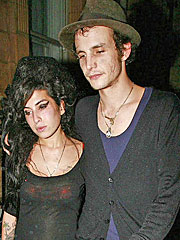 Battered and Bruised

2007. The couple gets into a heated argument at the posh Sanderson hotel. The next morning, British papers feature shocking photos of a bruised, bandaged, and blood-soaked Winehouse and a scratched-up Fielder-Civil. In emails to blogger Perez Hilton, she insists that her husband did not hit her. "I was cutting myself after he found me in our room about to do drugs with a call girl and rightly said I wasn't good enough for him. I lost it." Five days later, on BBC's Radio 5 Live, Fielder-Civil's mother, Georgette, pleads, "I think they both need to get medical help before one of them, if not both of them, eventually will die."

Up in Smoke

Winehouse is arrested – along with Fielder-Civil and hairstylist Alex Foden – in Bergen, Norway, and charged with possessing .25 ounces of marijuana. She is released the next day after paying a $712 fine. When the incident leads to visa problems, the singer decides to appeal.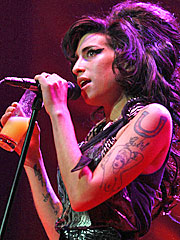 Hubby in Handcuffs

Police raid Winehouse's London home and later arrest Fielder-Civil, 25, on conspiracy charges. Fielder-Civil, who had been awaiting trial for a June assault, allegedly tried to pay off a witness. A week later, an emotional Winehouse plays the first gig of her planned 17-date U.K. tour, only to be booed by fans. Soon afterward, she cancels all public appearances for 2007. "I can't give it my all onstage without my Blake," she says on her web site. "My husband is everything to me and without him it just isn't the same." In December, after racking up six Grammy nominations, Winehouse is arrested in connection with her husband's case.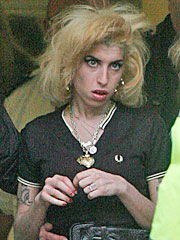 Wino Caught on Tape, Enters Rehab

2008. Winehouse is caught on camera allegedly binging on drugs in footage, revealed by the U.K.'s The Sun. The newly blond singer is seen smoking what the paper claims is a crack pipe. Police in London study the video, according to a spokesperson, who says after the officers assess the footage, they'll determine whether to take action. Days later, Winehouse enters a rehab facility: "She has come to understand that she requires specialist treatment to continue her ongoing recovery from drug addiction," says a statement from her record company.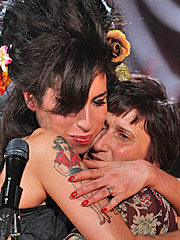 Winehouse Wins Five Grammys!

Winehouse pulls off a near-clean sweep at the 2008 Grammy Awards, winning five trophies including Record of the Year, Song of the Year and Best New Artist. Via satellite from London, she performs "You Know That I'm No Good" and "Rehab," and gives an emotional acceptance speech, where she thanks her producer Mark Ronson (who wins Producer of the Year), her mother (right) and father, and her husband ("To my Blake, my Blake incarcerated," she says).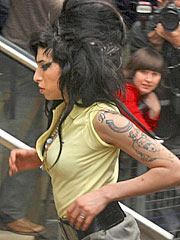 Alleged Headbutt Leads to Arrest

Winehouse is arrested in London (left) for assault, in which she allegedly headbutted a man outside a London pub on April 23. She is released the following day. Weeks later, Winehouse is arrested again – this time, in connection with alleged drug offenses. Winehouse goes on to spend the rest of 2008 in and out of hospitals for various ailments.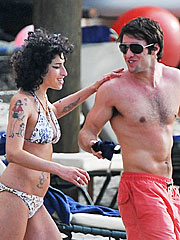 Cheat, Divorce & Reconcile

2009. Winehouse enjoys the Caribbean sun alongside rugby hunk Joshua Bowman (right). Weeks later, Winehouse's troubled husband begins divorce proceedings, citing adultery. In July, the singer admits to adultery and their divorce is granted – but in the New Year the ex-spouses give their love another shot.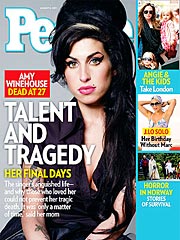 Amy Winehouse (1983-2011)

2011. Two months after returning to rehab and canceling her European tour, Winehouse is found dead at her London apartment, the result of having more than five times the legal limit of alcohol in her system. The Grammy-winning singer was 27.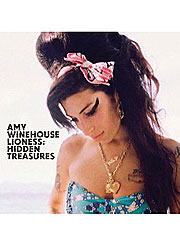 Amy's Swan Song

Island Records releases the British songbird's posthumous collection, Lioness: Hidden Treasures, featuring 12 tracks of previously unreleased and rare recordings from the late singer. "It's hard not to believe that Winehouse died with her best work in front of her," lauded Rolling Stone. "We'll never hear those records, and the silence is deafening.

QUOTES
quote:

Girls talk to each other like men talk to each other. But girls have an eye for detail.
quote:

Having listened to great songwriters like James Taylor and Carole King, I felt there was nothing new that was coming out that really represented me and the way I felt. So I started writing my own stuff.
quote:

I just dress like... I'm an old black man. Sorry! Like I'm an old Jewish black man. I just dress like it's still the '50s.
quote:

I know I'm talented, but I wasn't put here to sing. I was put here to be a wife and a mom and look after my family. I love what I do, but it's not where it begins and ends.
quote:

I really thought I was on the way out. My husband Blake saved my life. Often I don't know what I do, then the next day the memory returns. And then I am engulfed in shame.
quote:

If I died tomorrow, I would be a happy girl.
link:
http://www.youtube.com/watch?v=KUmZp8pR1uc
link:
http://www.youtube.com/watch?v=egpsoqLxkQE
link:
http://www.youtube.com/watch?v=TJAfLE39ZZ8
link:
http://www.youtube.com/watch?v=b-I2s5zRbHg
link:
http://www.youtube.com/watch?v=ojdbDYahiCQ
link:
http://www.youtube.com/watch?v=_OFMkCeP6ok
---
Followers
Visits
Favorites